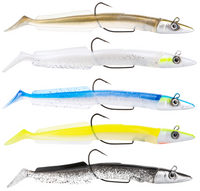 DRX Sandeels
Our new DRX Sandeels are what all sandeels want to be. Quick through the water, super strong and with an enticing wiggle.
20g and 35g.
ORDER HERE
As Featured In
These fishing industry heavyweights.
Our Story
We are a small UK based lure design company with big ambitions.
Started by Matt (eyes right) and some friends in 2017.
brief history here